Marnhhull Village Hall, Marnhull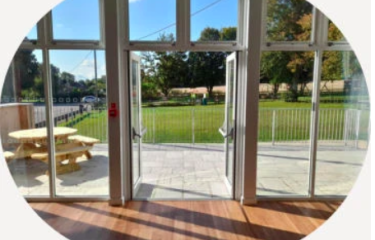 Energy-saving improvements
'Big' insulation works

Glazing

Lighting systems and electrical appliances

High spec heating

Renewables: heat

Renewables: electricity

Sustainable building materials

Recommended
Location
Marnhull Village Hall, Burton Street
Marnhull
Sturminster Newton
Dorset
DT10 1PS
Opening times
Open 8th October between 2 & 4pm.
This event has now finished.
Just turn up
The hall was extended and refurbished in 2020 with 8 kW of panels installed on the south facing roof and insulation to the latest standards. The hall also hosts recycling bins on Saturday mornings and a Repair Café widely used by both villagers and people in the neighbouring towns. There are plans to install a battery and improve the insulation in the older parts of the buildings.
The hall is open between 2 and 4 and also between 10 and 12 when the Repair Café is open.
Location
Marnhull Village Hall, Burton Street
Marnhull
Sturminster Newton
Dorset
DT10 1PS
Opening times
This event has now finished.
Other homes nearby